The Cost Savings of Using Cranes for Complex Tree Work
Tree work can be challenging, especially when dealing with large or hazardous trees. In such cases, using cranes can make the process more efficient and cost-effective. In this article, we will explore why employing cranes for complex tree jobs can save money compared to traditional manual methods.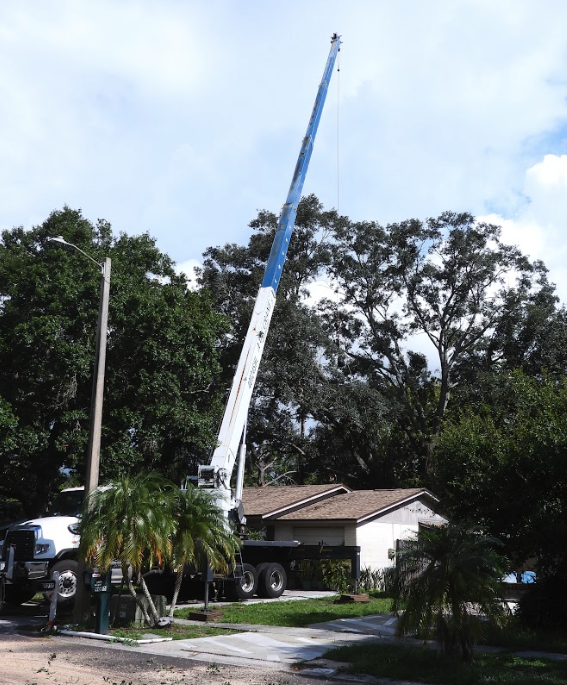 Improved Efficiency and Productivity: Cranes offer a significant boost in efficiency and productivity for tree work. They can lift heavy tree parts quickly and precisely, reducing the need for manual labor. This saves time and labor costs, allowing the job to be completed more efficiently.
Minimized Risk of Property Damage: Complex tree removal or trimming often involves trees near buildings or power lines. By using cranes, the risk of accidental property damage is significantly reduced. Cranes can carefully maneuver tree sections over obstacles, ensuring controlled and safe placement. This minimizes the need for costly repairs and liabilities.
Enhanced Safety for Workers: Tree work can be hazardous, especially when dealing with tall or unstable trees. Cranes provide a safer alternative by reducing the need for workers to climb or work at dangerous heights. Workers can perform tasks from the safety of the crane's bucket or platform. This reduces the risk of accidents, injuries, and associated costs.
Access to Difficult Areas: Trees in challenging locations, like densely built urban areas or steep slopes, can be difficult to access using manual methods. Cranes excel in navigating these spaces with ease. Their extended reach and maneuverability make tree removal or trimming efficient, saving time and labor costs.
Precision and Control: Complex tree work requires precise movements to ensure safety and avoid damage to nearby structures and vegetation. Cranes offer exceptional control, allowing operators to maneuver tree sections with precision. This reduces the risk of unintended damage and simplifies cleanup and disposal processes.
Equipment Costs: While renting or hiring a crane may seem costly initially, it is essential to consider the overall cost-effectiveness. Investing in specialized equipment like cranes can be more economical than purchasing and maintaining a range of tools required for manual methods. The rental service also provides skilled crane operators, eliminating the need for additional training or specialized personnel.
Using cranes for complex tree work offers significant cost savings compared to manual methods. Improved efficiency, reduced property damage risks, enhanced worker safety, access to challenging areas, precise control, and manageable equipment costs contribute to these savings. By leveraging the power of cranes, arborists can complete complex tree projects more efficiently, safely, and economically.